Production :
Mohan Jawade, Sanjay Chhabria
Director :
Mangesh Kadam, Mohan Jawade
Sunil's Character :
Shekhar Mirajkar, a negative shaded character
Special Mention :
This drama is produced as a special VCD edition only.
Cast :
Sunil Barve, Shubhangi Gokhale, Sanjay Mone, Kshitij Jharapkar, Sushant Shelar, Nikhil Ratnaparkhi, Shruti Pandya, Satish Gaade, Anil Gawas.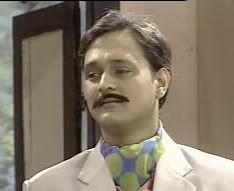 Arundhati, a frustrated housewife, tied down by her doctor husband's ideals decides to elope with her ex-lover Shekhar whom she had earlier rejected for a better educated and richer groom. Shekhar is a changed man ever since her rejection..... he has now become a materialistic and pleasure seeking womaniser. He agrees to take her along with him, concealing an ulterior motive. Arundhati's decision changes her and her husband's life forever!